MTV Video Music Awards 2012
I enjoy watching award shows for the performances and to see who wins but more so for the fashion. On my old blog, I used to pick out my favorite outfits and post/review it so I thought I would bring that tradition onto here! This is a red carpet event so I expect the guests to be dressed formally, men and women. Yes, this may not be the Grammys or anything, but it is still an important event! Overall, I think the show was pretty good this year. Kevin Hart was funny and entertaining. His jokes were on point and it didn't seem scripted at all, although I'm sure it was. Performances were good. I really enjoyed watching Alicia Keys, Taylor Swift and Frank Ocean. Let's get to the red carpet fashion!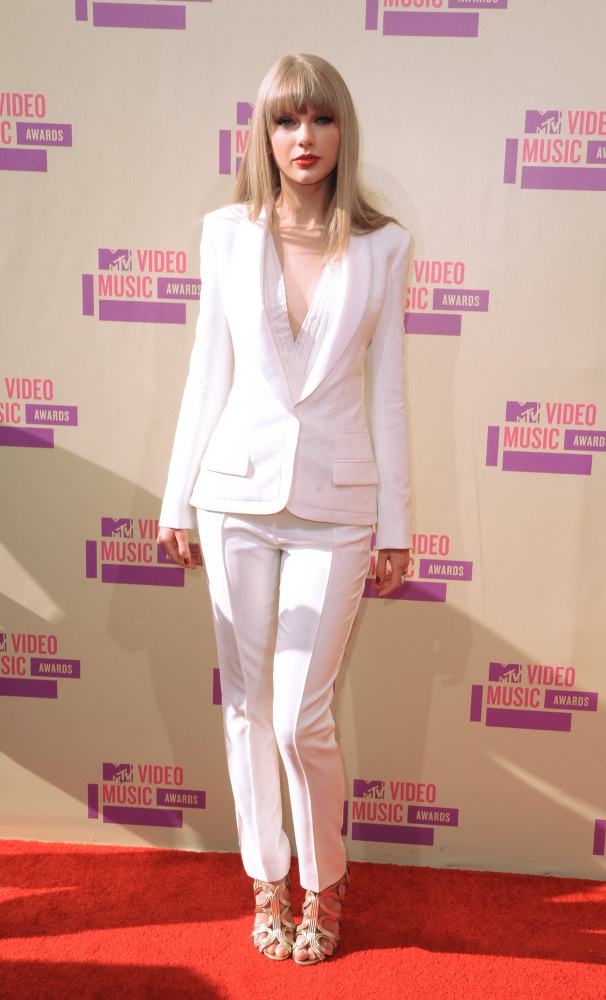 Taylor Swift in J Mendel
This is pretty risky for Taylor, well I guess anyone for that matter. It's hard enough to rock a pant suit but a WHITE pant suit? Props to her. She makes this look effortless. I love the heavy eye make-up with the red lips. It really stands out against her white outfit. I was just talking to a friend about her hair the other day. I like her hair straight. I think it makes her look older and urban. I do miss her curly hair at times though. It made her look more like a country singer. That was her signature for a while but I guess she's a pop artist now so straight hair makes sense for her.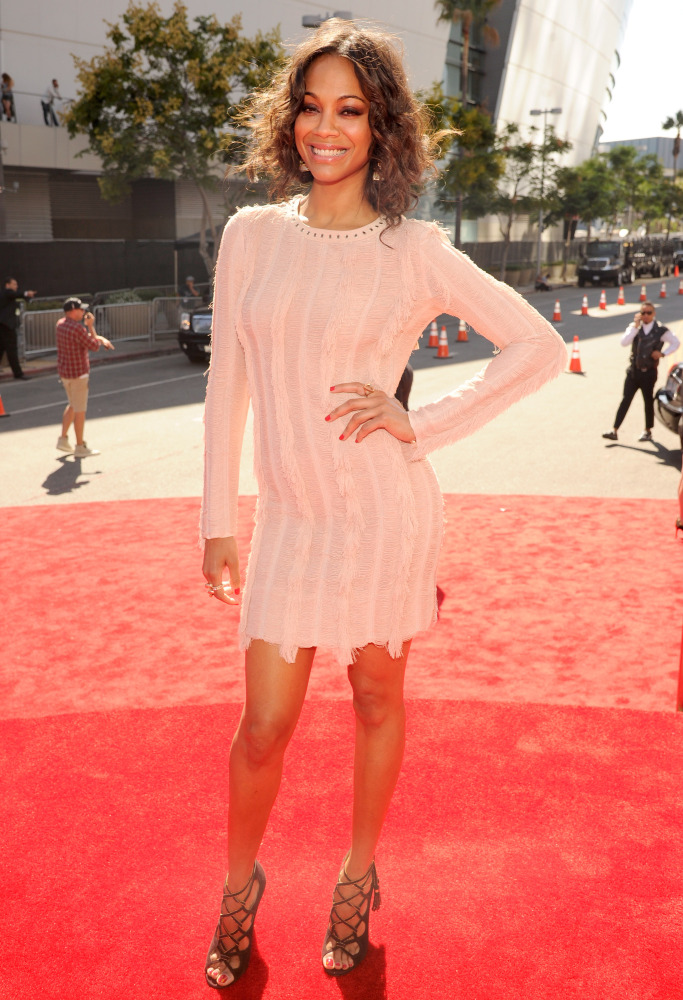 Zoe Saldana in Salvatore Ferragamo
Zoe is always gorgeous. No doubt, she's a head turner. Her dress is a little more casual but I really like the details on it. The color doesn't wash her out and she kept it all simple. I can only imagine how hot she was with those long sleeves on the red carpet. Maybe not the best choice for a Summer event in LA but I think she looks good.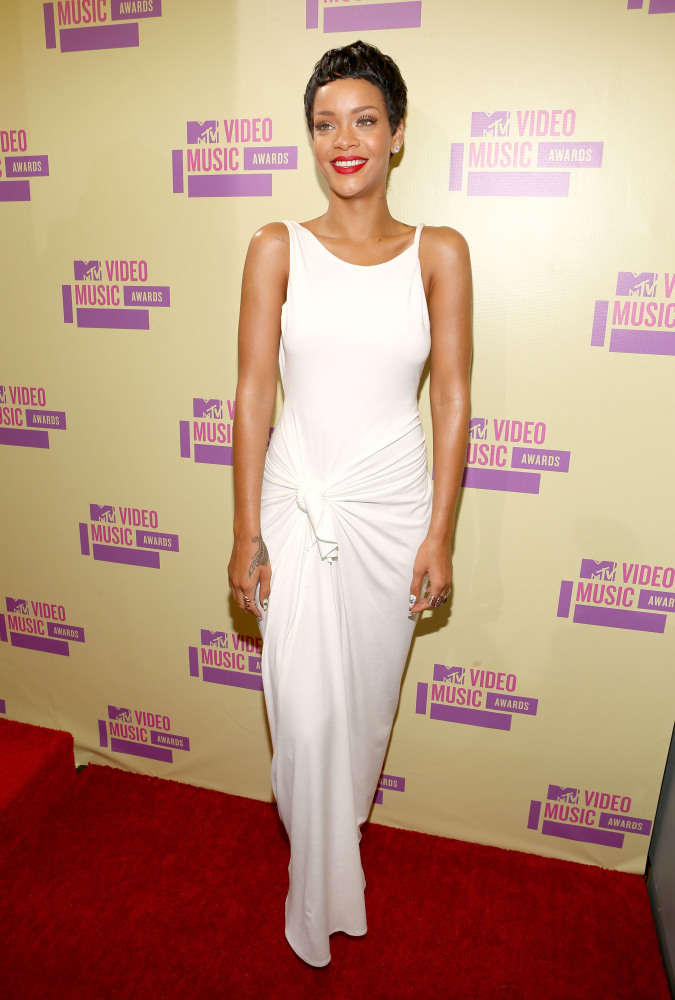 Rihanna
Riri has got everyone talking about her hair! Ever since Miley came out with her major haircut, it seems that everyone else wants to jump on that train. There isn't much to this dress. What I really like is the structure of the dress. Long white dress that drops to the floor with a low back. The front has a little attention with the knot off to the side but the draping of the dress is what makes it stand out. It accentuates her curves as well as shows off how thin she is.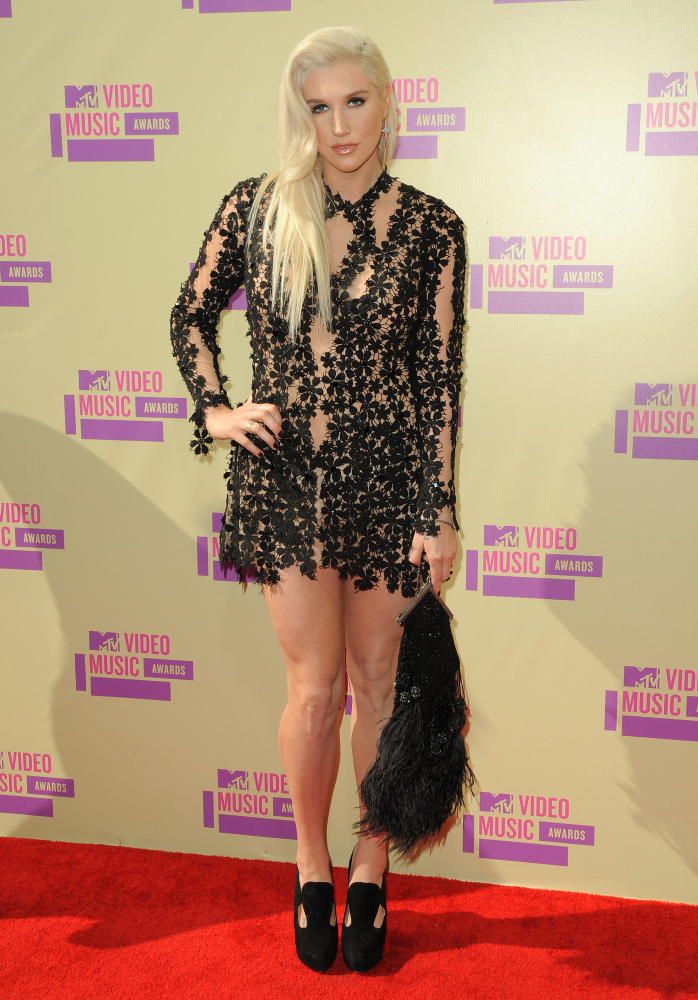 Ke$ha in her own design!
I was so surprised to see Ke$ha in this. I was even more surprised to find out she designed this herself. This is SO not like her but I love it! The details of the dress cover every where that it needs to. The shoes are plain and I don't care much for her clutch but I'm glad to see her cleaning up!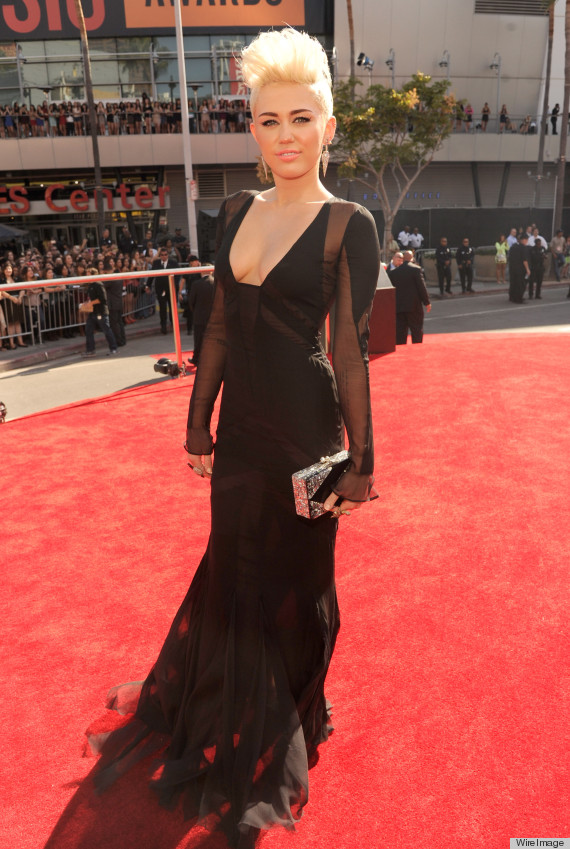 Miley Cyrus in Emilio Pucci
MILEY!!!! Where to begin? Her dress is gorgeous. I feel as if it was almost made for her. This style is relatable to her personal wardrobe. It is tailored perfectly! I like that she didn't accessorize too much because the dress is already a statement piece in itself. Everyone has an opinion about her hair. Her hair is a little too exaggerated in this but then again, she may have done that on purpose.
Chris Brown
I think Chris Brown was one of the best dressed men there! Well tailored dark gray suit, white shirt underneath and a thin black tie. The tie is a deal breaker. For me, I think there are certain occasions for certain sized ties. For the VMAS, a thin tie is perfect. It is chic and classic. I just don't understand the sunglasses. You are clearly inside an arena Chris, lose the shades.
Those were my favorites of the night. What were some of yours? Who's performance did you like best?
xo & couture,
Trisha