CMA Awards 2012
I've been waiting for this all week! CMA Awards was held in Nashville, Tennessee. For the fifth year in a row now, Brad Paisley and Carrie Underwood have hosted the show. It's no wonder why the association asks them to come back and host, they are awesome together! Most award show hosts try to be funny and pick on other celebrities. But Brad and Carrie are actually really funny! If you aren't convinced, check out this video!
I could not stop laughing! If you listen closely, the words are actually "sext paisley". During the show, Carrie had over 6 outfit changes! Each was gorgeous. She is gorgeous. My favorite of the night was her red carpet dress. Check out my other favorites below!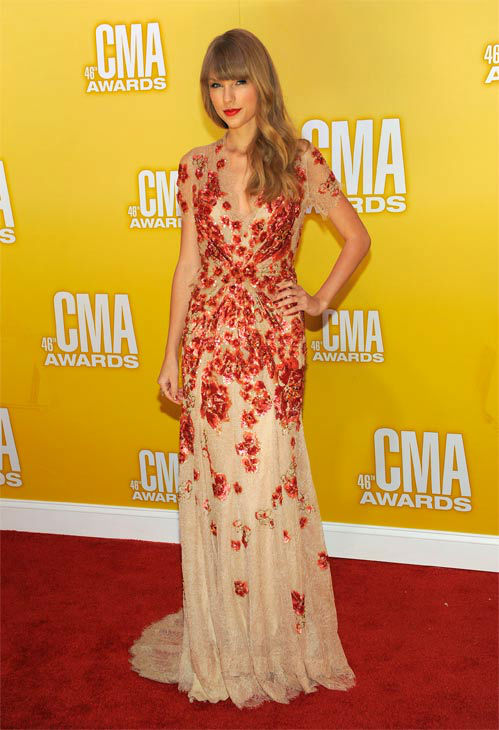 Taylor Swift looked amazing! Her face is always flawless. Must be the Covergirl make up ;) She debuted her song "Begin Again" on the show tonight and I loved it. Her set was Paris themed, like her music video. Ever since her album, Red, came out, I have had it on repeat. I probably know all the words to every song now but Taylor always puts out the best songs. In one way or something, every girl can relate. Of course, in honor of her new album, she wore a red dress on the red carpet and during her performance. I like the detail in this dress. It was different than all the other dresses from the night. Honestly though, I miss her blonde hair and her original country sound. She has gone more to the pop genre and I miss the type of songs and sound from her first album. But I guess this pop version of T-Swift sells better. Nonetheless, she is amazing!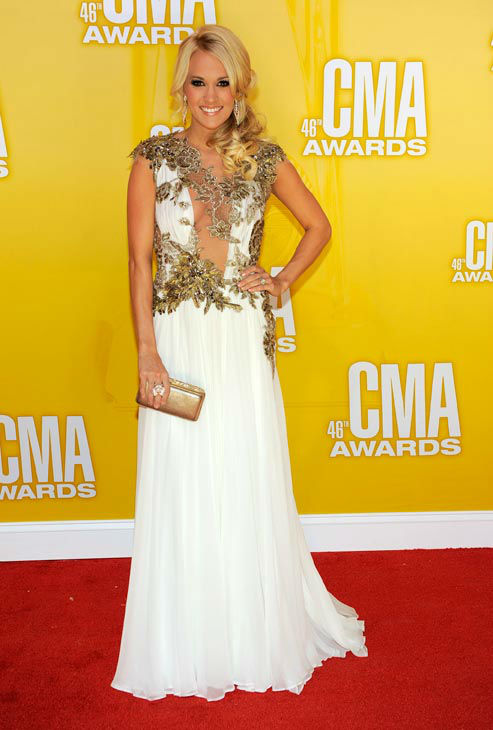 (pictures via ontheredcarpet.com)
Carrie Underwood dazzles! She is gorgeous in anything and everything she wears. She is one artist that sounds just as good live as she does on her records. Almost the same. This dress looks so good on her! I love the gold and white together. I like that the design isn't all over. The deep neckline is just sexy. Well done Ms. Underwood. Her other dresses throughout the night were pretty as well. It ranged from a sequence mini to a navy blue dress with cut outs to a full length red dress. There were more in between. She had so many changes! Perks of being a host!
(picture via google.com)
This is her opening dress, the sequence mini number. This picture is a picture of her and Brad Paisley. I will probably watch that video over and over again. So funny and cleaver.
Luke Bryan. Probably one of the hottest men in country music. *Fan girl over here* He looked dapper in his velvet blazer, which is on trend for fall now! Points for Luke. I like the navy blue with the lighter shade of navy blue shirt. The suit fits him nicely and he's got a pretty arm candy too! He had an amazing performance solo and with Jason Aldean.
*Another fan girl moment* Crazy for Hunter Hayes right now. Congrats for winning new artist of the year! His performance was so good too!
More award recaps coming soon! Have a good Friday ya'll!
xo,
Trisha