Golden Globes 2013
I love award season. You all know that. I wasn't expecting the Golden Globes to happen so soon though! I really want to attend one of these shows someday. I think it'd be fun! But the chances of meeting a celebrity... eh not so likely probably haha
Anyways, the Golden Globes were on Sunday night and since I did my Gabe Bondoc post on Monday, I'm doing my recap today. I must say I didn't absolutely hate anyones dress. The fashion was so spot on for this show! The stylists did a great job at dressing their clients for this occasion. There was such a color trend and another big trend I noticed was the high slit on one leg. Lets recall the "one leg, high slit" look by Angelina Jolie last year. Guess everyone wanted to follow in her footsteps. Here are my favs from the night!
Megan Fox in Dolce & Gabbana
The mermaid style dress was a big trend this year. I love the slight lace detail on this dress. It's simple yet so elegant. The color is subtle and looks nice with her dark hair. And let's take a moment to check her post-baby bod. Gorg!
Katharine McPhee in Theysken's Theory
High slit, one leg! She looked so amazing! The deep plunge works so well for her. I like that she put her hair up and wore dark make up. It just all works together!
Kate Hudsen in Alexander McQueen
I love the gold accents and deep plunge. Kate has a great figure and she for sure shows it off in this dress.
Keri Washington in Mui Mui
Lace and sheer was another big trend on the carpet. I love how the under layer is shorter and the lace continues on the bottom.
Hayden Panettiere in Roberto Cavalli
Look at the bead detail!
Taylor Swift in Donna Karen Atelier
She definitely wore a stand out color for this show. It looks great on her though! It's different that what she usually wears so it's nice to see something different.
Lea Michele
Gorgeous. Oh my. Her super tanned skin looks so good with this color dress. High slit and high neckline, bravo Rachel Berry!
Jessica Alba in Oscar de la Renta
Woot woot, that color is so pretty. Another mermaid style. Told you it was everywhere! Her hair and necklace are perfect for this dress. The clutch, not so hot but hey, a girls gotta have a statement piece.
And here are some hunky men from that night... :)
(All pictures above are from www.tmz.com)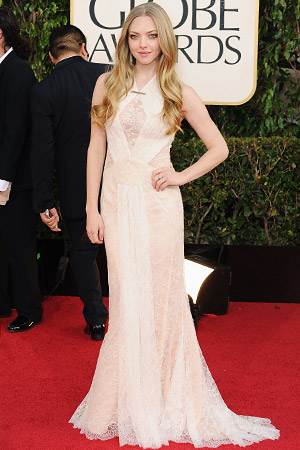 Amanda Seyfried in Givenchy
(picture via google.cm)
Miranda Kerr and Orlando Bloom
(via www.justjared.com)
MY FAVORITE OF THE NIGHT. and she wasn't even nominated or anything. She was Orlando's plus 1 and I think she stole the show. It's hard to wear red on a red carpet but she nailed it. She is so beautiful as it is. The dress hits her in all the right places and she just looks effortless.
xo,
Trisha